Are Fanny Packs In Again?? YES!
From looking at my reader analytics I'd say more than half of you have already lived thru the whole fanny pack thing once, and like me, it was a few decades ago.
And maybe also like me, you had a LeSportSac, or Jansport, or Esprit pack that you really should have given away, but you kept it for those practical times… like hiking or traveling. You knew in your heart of hearts the moment of the fanny pack being a cool fashion statement was over. But the practical you had a hard time giving it up. Loud, audible sigh… and cue Weird Al Yankovic's White and Nerdy
Rejoice, The Bum Bag/Fanny Pack/Belt Bag IS once again in fashion!
These past few seasons, fanny packs have become more than just mainstream, I'd even say they've become chic! The practical and the fashionable have intersected, and I for one could not be happier! Let's call this the moment of the throwback accessory!
No matter your age, style aesthetic or price range there's a fanny pack that can work for you. They can look very ladylike when paired with a dress and they can feel very sporty spice when paired with army green pants. It's all about the bag you pick and how you put it together.
How to Wear A Fanny Pack
So many cool ways to style this – here are a few of my favorites for inspiration.
Elegant
Cinching the waist helps make a flowy silhouette more figure-flattering
Sporty
This is probably the easiest look to pull off because a fanny pack is essentially a sporty item.
Pinterest
Everyday
The pack doesn't need to go around your waist – it looks just a fab worn cross-body.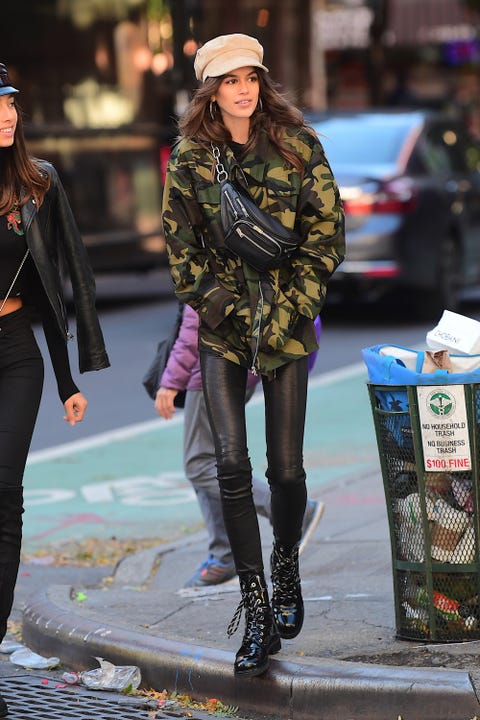 Work
This is my fav – belted over a blazer!
Going Out
Perfect for a concert or drinks with friends.
Pinterest
The Top 3 Reasons I love a Fanny Pack
HANDS-FREE LIFE – There is nothing quite as amazing as having all you need with you, but still being able to use both hands! A regular pocketbook, even a crossbody, doesn't allow that kind of freedom. And not worrying about where to put your bag in a restaurant or another public place is a total bonus.
LIMIT IT TO THE ESSENTIALS – A fanny pack is not as big as a typical purse. So you're forced to pare down to the essentials you really need.  I'll embarrassingly admit that if my bag is big I tend to fill it with "just in case" junk. And all of that stuff just weighs me down.
NO MORE BACK OR SHOULDER ACHES – Because this type of bag attached to your waist, broken back syndrome becomes a non-issue.
I went on a Fanny Pack hunt and found the easiest to wear styles (at all price points)

Well, the good news is that you can now have the benefits of the hands-free life, and be uber fashionable at the same time. #Fannypacksforthewin
Affiliate Links
Since the purpose of this blog is to take the stress out of getting dressed, we try to make it easy on you by sharing shoppable links (accessed by clicking the PINK words or the actual photo) with awesome readers like you. We want to let you know, some of those contain affiliate links for products. There is absolutely no additional cost to you if you take action (click, purchase, subscribe) with one of these links. As a result, we will earn some coffee money from your click.  But we promise to drink it while creating more ad-free, helpful content like this.
Photo: Molly Nook
Outfit details: Fanny Pack // Top (runs TTS) // Pants (run big, size down)