Black Pumps: Boring, But Necessary.
Black  pumps. Are they boring? Kind of. But, are they necessary? Yes! This is one of those needs vs. wants things.  In the food pyramid of clothing,  a plain black pump falls into the veggie category, not the sweets category. Nobody really wants to eat them, but they need them to sustain a healthy body. Eating sweets would be way more fun. And the same goes for the black pump.
Most people don't really want spend a chunk of their clothing budget on a "boring" shoe like the black pump, but it's a building block in your wardrobe. In fact, if you invest in a plain black pump now it'll save you money in the future. With the black pumps we're talking about, you probably won't need a different black pump for every occasion. When you have a classic pump in your closet that goes with just about everything,  just like your veggies, it will take you further than a piece of cake.
Black pumps are versatile.
Time and again we meet with clients that are missing this key element in their wardrobe.  We've realized maybe it's time to give the classic black pump a little PSA. It's one of those pieces it pays to invest in.  It will end up being one of, IF NOT the most versatile shoe in your wardrobe. It goes with just about everything from jeans, to dresses. It's that versatile, and a classic if chosen correctly.
Rules for picking a classic black pumps.
Look for a classic black suede pump. The suede makes the shoe look rich (no matter how much you spend). Yes, you can wear them during the warmer months. And yep, you can wear them with stockings or black tights, too. They actually look better because it creates a longer looking leg. A patent leather or plain leather shoe worn with tights or stockings draws attention to the shoe which breaks up your leg. So, say good by to short stumpy legs and say hello to legs for days!!
Opt for a black pump that has very little, to no platform (we know it isn't always the most comfortable for some, and a small platform can add a little pain relief), but a large platform can leave the shoe looking a little more American Music Awards and a little less Golden Globes. Opt for classy.
No matter what the trend, a thin heel is always best when shopping for a classic black pump. A block heel is fine, but with certain outfits they can be a little less dressy, and a little more trendy. We're going for maximum versatility.
A black pump with a pointed toe rather than square or rounded toe elongates the leg. Again, legs for days.
A little outfit inspo…
Different ways to wear black pumps IRL (in real life)
With Jeans – Adding a pump instantly elevates the sloppy factor of a boyfriend jean.
Get the look: Pumps // boyfriend jean // silk t-shirt // tote // sunnies //
2. For work, with a skirt – The pump adds length to the legs, even with a midi skirt
Get the look: Sweater // Skirt // Bag // Sunnies // Shoes
3. For cocktails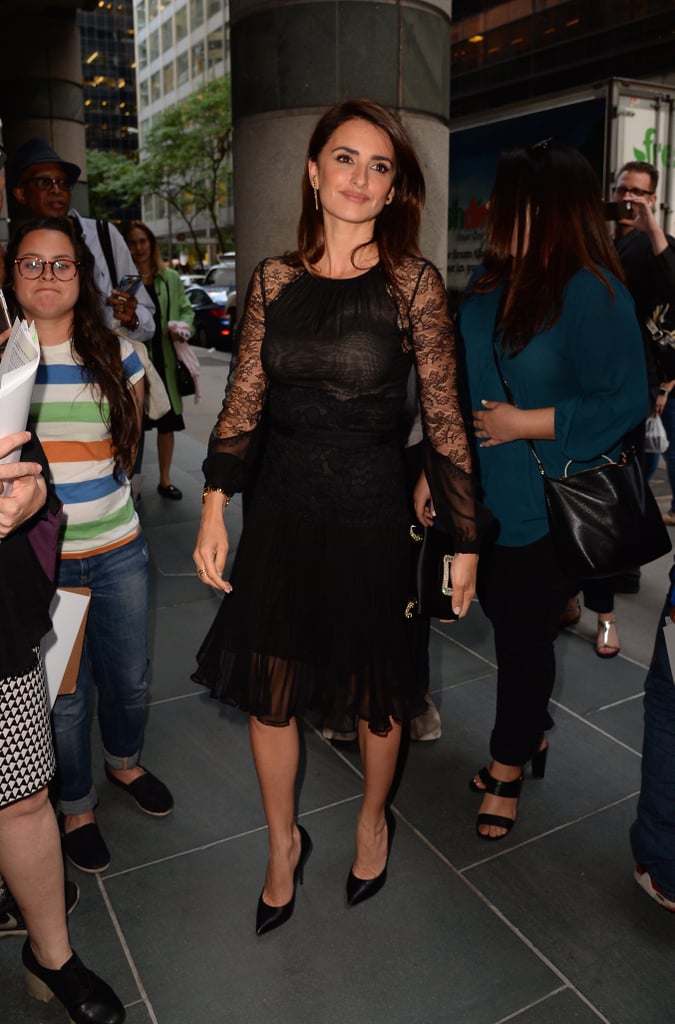 Get the look: Lace dress // clutch // earrings // shoes 
4. With tights aka legs for days
Get the look: coat // sweater // skirt // bag // tights // shoes 
5. With wide cropped pants (culottes)
Get the look: Cropped pant // jacket // white t-shirt // shoes 
6. With a slim slack (and the amazing Gabrielle bag)
Get the look: slim black pant // moto jacket // bag // shoes
7. This is Hallie's favorite new way to wear a black pump…
Get the look: shoes // socks // pants // jacket

The best of the best black pumps

See how versatile the black pump can be. Don't miss out on having this key element in your wardrobe. Next to your sneakers, they might become your most lived in shoe. Hey, and we want to know,  tell us if you have a shoe that you can't live without.
Since the purpose of this blog is to take the stress out of getting dressed, we try to make it easy on you by sharing shoppable links (accessed by clicking the PINK words or the actual photo) with awesome readers like you. We want to let you know, some of those contain affiliate links for products. If you take action (i.e. click, subscribe, make a purchase) after clicking one of these links, there is absolutely no additional cost to you. However, we will earn some coffee money from your click and promise to drink it while creating more ad free, helpful content like this.
Images: Header 1 // 2 // 3 // 4 // 5 // 6 // 7