The Search for White Jeans
White jeans, OMG, what are you doing to me?!? And, btw, it's Hallie writing today. Why am I OMGing? Because I have been on the search for white jeans this season and it's efffing hard to find a good pair. Honestly, I didn't expect it. I've always loved my white jeans, they're a staple. A great way to "summer-ize" an outfit. They go with all of the current spring colors. And, they're a super good cheat for those places you're not allowed to wear blue jeans, like the country club, but you still want to wear jeans, because like I said, they're a staple.
But this search has been painful and prolonged and slightly depressing. My love of pasta and dislike of exercise has finally caught up with me.  I knew I had gained some weight (thank you slowed metabolism) and I knew I had gotten older (thank you gravity). But I had not realized the material on white jeans had become so dang thin!
As we've been meeting with clients planning their spring and summer wardrobes, the need for a favorite white jean has been coming up again and again. And so has the frustration in finding a pair. White jeans, sort of like white tee shirts, need to be replaced every few years. Even if you use oxi clean to wash, the white just does not stay pristine after a lot a wear. And wearing yellowed white jeans is just ewww.
So, I'm taking you on my journey because maybe you too are looking for a great pair of white jeans this season. And while some may not work for me, they may work for you. I'm going in depth here folks – I'll give you the nitty gritty on each pair and the kind of body that seems to work with each. I've tried a BUNCH on, and I've had clients try a BUNCH on, and I have some thoughts…
What to look for in a White Jean
Finding a favorite white jean is hard. It is a tall order to fill:
Thick enough fabric that doesn't show every nook and cranny
But thin enough fabric that it is warm weather appropriate so you're not literally sweating your a** off
Slim in the leg but not too skinny
High enough rise that it stops muffin top
But not too high rise that it looks weird in the crotch
Doesn't show the front pocket thru the jean – ugh I hate how that draws attention to a woman's widest part
And in 2018, hits at the ankle with a bit of a kick
Well the good news is my stress is your gain – For both clients and myself, I have ordered, felt, seen and tried (or seen on) on like 40 pairs of white jeans in the last few weeks. And, thankfully, I have found some winners!
The Search for the Holy Grail (of jeans)
If you've got curves pick these
Remember the Madewell Cali jean we spoke about months ago? Most are sold out! However, this is her summer sister. The Cali in white. FYI, as of right now they are back ordered until mid May. Run, don't walk to get on the list.
These looked great on Elana and our client that's a bit curvy on the bottom. The slight boot cut balances things out. TIP – EVEN IN WHITE ORDER YOUR TRUE SIZE.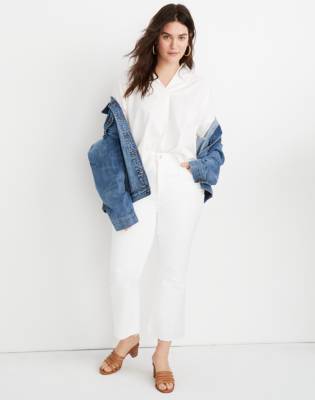 If you've got muscular thighs pick these
While the  Cali's look great on everyone in the blackish grey color, in white, they're not quite as perfect. These did not look good on our client that has more muscular thighs – the slight boot cut seemed emphasized that.
She looked fab in another Madewell favorite tho. The 10″ High Rise skinny crop in white. They give just the right amount of lift and tuck where it's needed the most. The button front detail is pretty cool too. TIP – SIZE UP 1 SIZE IN WHITE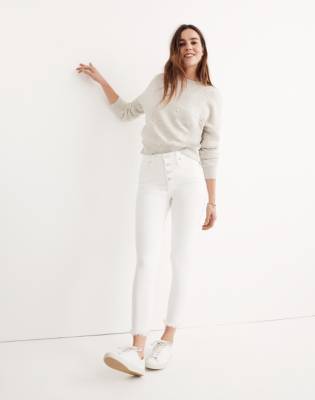 If you're feeling kind of out of shape pick these
This is the pair I picked. I like the relaxed feel of a slim boyfriend/girlfriend jean. The style is forgiving enough in the thighs and tush but not so loose it's dumpy. I love these so much I ordered them in blue too. This pair is a mid-rise so it's a perfect compromise for the whole high/low rise dilemma thing. Btw, they're so good, they're selling out everywhere. So, I am sharing links to a few different retailers. Try this, and this, and here too, they have the most sizes in stock.
If you prefer a low rise I love these – it's basically the same jean but with a lower rise. And joyful, joyful these are great too – similar, and the under $80. (Shhhh. I kept these too – I'm on a binge) TIP – SIZE UP 1 SIZE IN WHITE
I'm a big fan of Everlane and their relatively new denim line does not disappoint. The high rise (10.5 in) and kick flare create an illusion of longer legs. And their off white, Bone wash was developed to not be see-through. Brilliant! TIP – ORDER YOUR TRUE SIZE
If you've got a more mature build pick these
NYDJ! These are like the Goldie Locks of white jeans for the gals with a more mature build. Literally the name of the brand is Not Your Daughters Jeans. They're not dowdy though, not at all.  They. Are. Good! TIP – ORDER YOUR TRUE SIZE
If you're a pear or hourglass pick these
Full credit for this find goes to our awesome, awesome client!!! She read about this mother/daughter brand that makes jeans to work with a woman's curves, not against them. They have a try at home program (you get 4 pairs to try). So she ordered the Nicole and Kelly styles in size 14 and 16.
The Nicole style were the winner – they are cut higher in the back so your bottom stays covered, genius, right? And the fabric was soft and flattering but not see thru. TIP – ORDER ONE SIZE DOWN
If you're at the gym 7 days a week and eat no carbs pick these
I love the front split hem on these! White they are fantastic, they're probably the most unforgiving white jeans I have tried/seen. The fabric is soft, but shows EVERYTHING! They're fabulous and if you can wear them, I say go. for. it! TIP – SIZE UP FOR WHITE
If you've got a boyish figure pick these
A white jean with a little bit of interest and a lot of fun. The stripe down the side is pretty flattering and adds some curves to those with a more rectangular build. They're pretty popular so sizes are limited. TIP -RUNS TRUE TO SIZE
Oy, I'm exhausted. Are you? Well I hope this saved you the headache of trying on a zillion pairs. If you're in the market for white jeans maybe this helped you narrow it down to a few potentials that might work. And hey, if you have a favorite white jean we didn't cover, PLEASE comment below – we want to know!
Affiliate Links
Since the purpose of this blog is to take the stress out of getting dressed, we try to make it easy on you by sharing shoppable links (accessed by clicking the PINK words or the actual photo) with awesome readers like you. We want to let you know, some of those contain affiliate links for products. If you take action (i.e. click, subscribe, make a purchase) after clicking one of these links, there is absolutely no additional cost to you. However, we will earn some coffee money from your click and promise to drink it while creating more ad free, helpful content like this.