The socks to wear with…
If you google "what kind of socks to wear with", what comes up in the blank is every kind of shoe and boot under the sun – Vans, Chuck Taylors, booties, duck boots, cowboy boots, Birkenstock. But, that kind of makes sense when you think about it. Each kind of shoe does have a specific kind of sock that works best. And when you're wearing the "wrong" one,  it just looks weird – either too much or too little of it shows. And just like the wrong shoe can throw off an entire outfit, so too can the wrong sock and shoe pairing.
But never fear, the TWC team is here to help. When we wrote about the essential undergarments a woman needs in her lingerie drawer, we received reader suggestions that a post on socks was needed – ask and you shall receive people!! So, we came up with a list of the socks that are good to keep on hand. What was once a somewhat boring staple can now be a fashionable accessory to your outfit. And, what used to be a fashion faux-pas has turned into one of springs hottest must try items because the rules have slightly changed. (We'll show what we're talking about.)  But, in reality most of us aren't going to wear them in any other fashion (no pun intended) outside of function. So, at least if you're wearing socks, wear them right.
The sneaker and bootie sock.
RULE #1 – To show ankle with a sneaker or bootie wear a low profile sock.
Low cut socks are the best choice when a full sock isn't necessary. These guys fit right under the ankle bone. They are great to keep on hand for the gym, or with your favorite pair of fashion sneakers, such as these even outside of the gym. They help to show off a little ankle, which is always cool, too.
When you don't want your socks to show with your booties try the low cut sock.
Low cut socks we love.
These come in a variety of colors and are a great year round with booties. They are Hallie's go to – the wool helps wick away sweat and keep your feet warm and dry.
With a sneaker these are Hallie's sock of choice. The have some extra padding for comfort and hit just below the anklebone.
A great low cut sock to wear with sneakers or with your booties, too. These are Elana's faves.
RULE #2 – If you don't want to show ankle with your bootie, wear an opaque knee high.
When you're wearing an ankle boot and a cropped pant but you don't want to show skin (like if it's cold) wear a solid black mid calf or knee high sock. It makes it look like the boot is continuing and visually creates a long lean line.
Ankle and Knee High socks
Both the ankle and knee high version of these look great with black booties.
Socks for the ox. Oxford, that is.
RULE #3 – To show ankle when you're wearing an oxford or loafer type shoe…go no show.
A no show sock hits even lower than a low cut, and will show skin when your bottoms are cropped. They're also a good option in the warmer months to keep your feet from sweating in your shoes. Yuck. Who wants that?
No shows we love.
This Smartwool has very little slippage because of the internal gripper. These also work great with a fashion type sneaker when you don't want to see any sock at all.
This has become a sock drawer staple in Elana's house. Both male and female alike really enjoy these bad boys.
RULE #4 – If you don't want to show ankle with your oxford, wear a sock that has interest.
When you're wearing an oxford or loafer type shoe, keep your ankles warm with a sock that has a little interest. Look for patterns like fishnet or contrasting colors. It takes your sock from functional to fashionable.
Fun Socks.
You can never go wrong with animal print and these socks are no different.
With a brown or black shoe this horizontal striped sock works with both. The contrasting colors make them really current and very cool.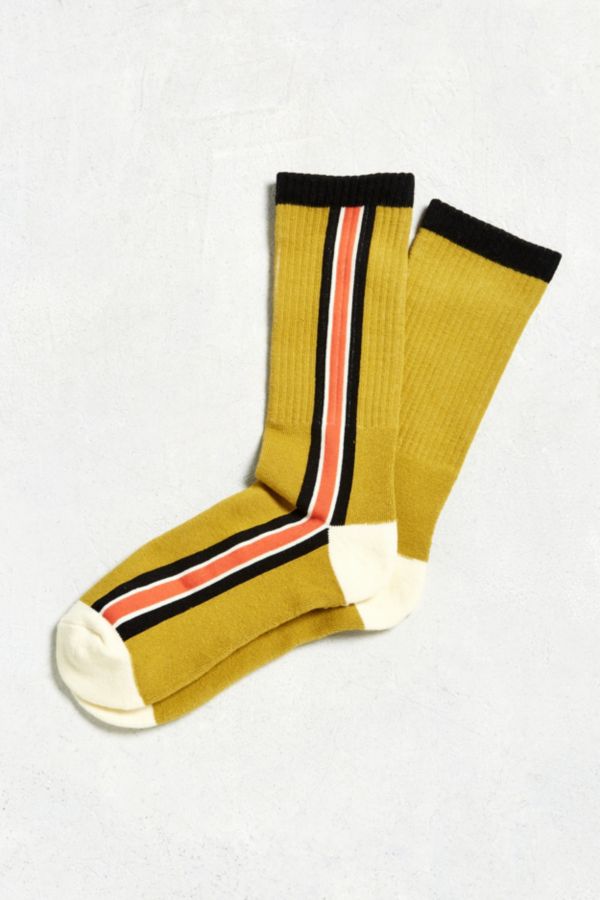 With a mule or a clog, socks are a BIG no-no.
Look wise at least, you can't wear a visible sock with a mule. Thanks to our reader Cindy for pointing out we missed this category. If you hate going barefooted in a mule try a half sock. They keep the ickyness away on the front part of your foot but leave the back to breath free.
We like these half socks because the argyle makes it a bit fun even if no one ever sees it.

The sock to try with a sandal or pump.
Ok, ok, this seems completely ridiculous, we know. It goes against everything that we've ever been taught or instinctively know.  Even most men over the age of 60 know that this was a fashion faux-pas at one point. But, someone, somewhere decided that this once fashion don't is a fashion DO.  The sock with a sandal or pump is sticking around and we're seeing it more and more. At first, we were a little geeked out by it, but it's growing on us in a major way. The truth is, neither one of us has taken the plunge into this brewing trend. We're still trying to decide if we're cool enough, young enough, or eh hem, brave enough? But, since it's our job to inform you, we'd be remiss if this wasn't added to the sock list.
Cool girl socks to wear with sandals or pumps.
Wear this cool dip dyed sock with any color shoe.
A lovely lace sock to wear with a black pump or sandal.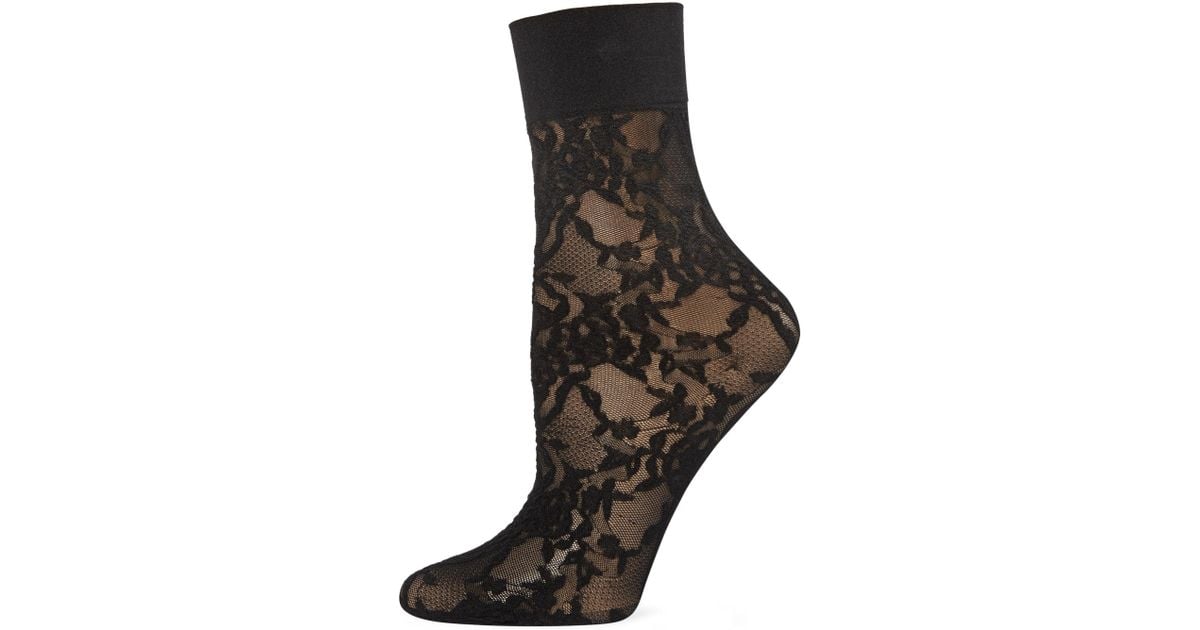 So has this solved the sock/shoe dilemma for you? If not, let us know in the comments and we can dive even deeper in a future post.
Images : 1//2//3//4//5//  Header Photo : Molly Nook
Affiliate Links
Since the purpose of this blog is to take the stress out of getting dressed, we try to make it easy on you by sharing shoppable links (accessed by clicking the PINK words or the actual photo) with awesome readers like you. We want to let you know, some of those contain affiliate links for products. If you take action (i.e. click, subscribe, make a purchase) after clicking one of these links, there is absolutely no additional cost to you. However, we will earn some coffee money from your click and promise to drink it while creating more ad free, helpful content like this.