The Jean You Need This Year
Every once in a while I find something that I'm completely obsessing over that ends up not just in my closet, but in many of my clients' closets too. That means that the item is so good that it falls under the category of fitting into everyone's style statement, whether classic, boho, funky, rocker, artsy, you name it. One of those things that is just SO GOOD that I have to share it with you. So ready for it…The Madewell Cali Jean. You guys, THEY. ARE. SO. GOOD and I'll tell you why.
I don't really like jeans shopping for myself.  It's not as bad as bathing suit shopping, but it's a close second. I hate when they are too tight, or too loose.  If the rise is too low you get muffin top,  and if the rise is too high you can't breathe.  If the pocket placement isn't just right the tush can end up looking like a hippo's rear end, or flat as a pancake. Say goodbye to all of these things with the Cali. 
The Best Jean Ever
This sounds like an advertisement but I swear, it isn't. In fact, I'm pretty sure Madewell has no idea who I am… I'm sharing because that's what I do. At The Wardrobe Consultant (TWC) we're matchmakers – between clothes and people – and this pair of jeans, so far, has fit EVERYONE!! 
The Jean That Looks Good On Everyone:
Big/ little, young/ old, tall/short – this jean is working for all. Try on one pair, and you'll be sold because these jeans are that good. The shape has just the right amount of flare and rise moving into 2018. The length is great for all different shoe choices. The color options have nice gray undertones so they go with everything, and the amount of stretch is just enough so you aren't pulling them up all day long. Oh, and they come at a nice price too.  A jean that goes with everything, for everyone. BUT, consider yourselves warned… Some styles are back ordered, some sold out, some only available in limited sizes. This is an act now or regret it later call to action ladies!
How to wear the Madewell Cali
Wear them with tops tucked in and belted or with hip hitting tops and sweaters. Try them with longer cozy cardigans or boyfriend blazers. Wear a winter boot like a sock bootie, and because of the length, heel height isn't an issue. It's that easy.
These jeans are nothing shy of perfection.
They are selling fast and not just at Madewell. Nordstrom has the Cali too. If there is a slight price difference (Nordstrom will usually match, all you have to do is ask.)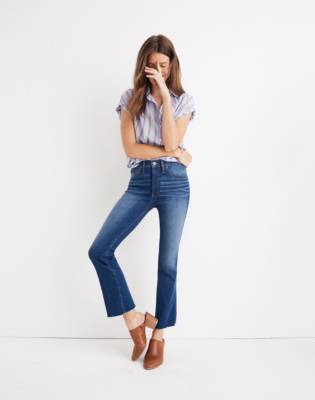 We are loving this dirty black wash.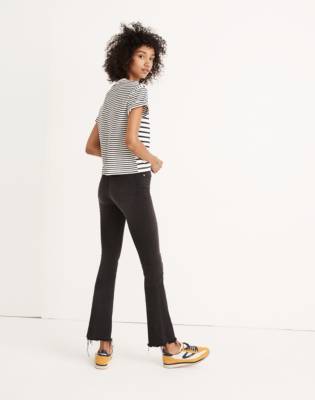 The Cali in cord – true love. And the button fly takes it up a notch too.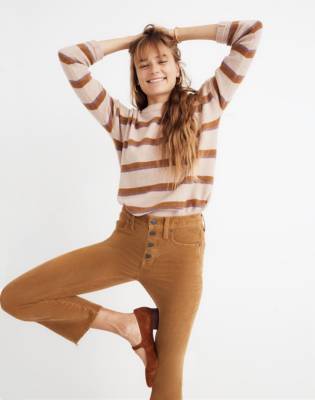 They are so good, right? If you love them at first glance, run to get them. Don't walk. They are selling like hotcakes, literally.  Act FAST for happy Cali shopping.
Affiliate Links
Since the purpose of this blog is to take the stress out of getting dressed, we try to make it easy on you by sharing shoppable links (accessed by clicking the PINK words or the actual photo) with awesome readers like you. We want to let you know, some of those contain affiliate links for products. There is absolutely no additional cost to you if you take action (click, purchase, subscribe) with one of these links. As a result, we will earn some coffee money from your click.  But we promise to drink it while creating more ad-free, helpful content like this.
SaveSave