The Search for Comfortable Face Masks
Back in March, I wrote a post about fashionable facemasks and how to stylishly add a mask to your outfits. And while I do think that's important, the ACTUAL comfort of said masks is equally if not more important. The mandate to wear masks, especially for long periods of time, makes finding comfortable face masks even more important.
I'm somewhat hesitant to recommend comfortable face masks without trying them first – I had a big boo-boo with my June hotlist. The back story of that is that my friend Lisa recommended a UV phone sanitizer. The link was not the actual one she had and loved, it was a knock off. And I posted about it before mine arrived and had a chance to vet it. Needless to say, once it came, I saw it was pretty flimsy and not the highest quality.  uh-oh…
So, I'm returning the one I got and recommended (insert embarrassed face) and ordering a real PhoneSoap sanitizer. I contacted the brand and they're creating a discount code for you guys. Save 10% off your order with this link.
Most Comfortable Face Masks
Getting back to "normal", in some way, means wearing a mask these days. And typically for long periods of time too. So while I'm all about how things look, I also believe comfort usually trumps pure aesthetics. In my perfect world, it's a happy marriage of both.
I wish I could try everything I recommend on this blog or even to clients when I give them shopping links, but that's not realistic. However, I do thoroughly read reviews and use that as a guide for my recommendations. All of these have phenomenal reviews, so I'm feeling pretty confident in this round-up comfortable face masks. Of course, each person is unique and what might be comfortable for one person, might not be for another.
Pro Tip: Try to peruse the reviews with your particular pain point in mind (this tip works for masks and for clothes and shoes too). For example, do masks slip off your nose? Then look for reviews that address that issue. Do they hurt your ears? Look for reviews that talk about ear comfort (or discomfort and then stay away from that item).
Here are the comfortable face masks with the best reviews, that also address the most common problems I've heard from friends and clients.
Heat – those masks are so dang HOT
Ear pain – the ear straps can be super uncomfortable 
Chin and nose slip – the mask doesn't stay on peoples noses or slides up from their chins
General breathability – that's a double-edged sword, they need to keep viral loads in but still allow air to move
The 6 Most Comfortable and Highly Reviewed Face Masks
These are made by an athletic/yoga wear brand, from upcycled fabrics and remenants. There are 5-star reviews from runners, nurses etc. The only catch is that you can't pick your pattern…so it might be a better option for women – unless florals are your guys' thing, then go for it.
These keep selling out because they're that good! Pre-order NOW to secure your mask. It's made of a chill fabric (goodbye face sweat) and comes in sizes for a better fit. There's a size chart and tips on how to measure your face for the best fit.
This mask is available in a bunch of patterns (some loud, some subtle). There's a fast ship choice for patterns that are in stock now, as well as an option to customize your mask (think your business logo or your favorite sports team).
This shape goes above the nose for stay put-ness, and the adjustable ear strap is what makes this a winner in the comfort category.
With over 2000 five star reviews and multiple sell-outs, I'm thinking these are worth a try. They're currently on pre-order for an August delivery. Since masks seem to be part of our future, I'm getting on the list ASAP.
According to color and pattern, these are unisex. However, the size and scale might be better for a female or a male with smaller features.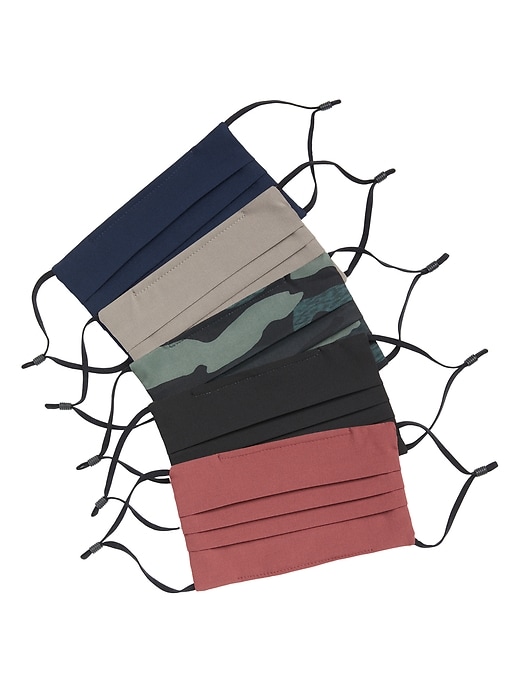 This one is a beard approved cooling and comfortable face mask that has an adjustable chin strap. The honeycomb fabric offers a special filter as well as flexibility.
My husband and boys swear by these gaiter type masks. They use them for fly-fishing (and even sometimes for golf) because they protect from UV rays and keep you cool. They also are really easy to keep on when not in use.
I've been kind of off the grid this week, having some quality time with my family. We haven't watched the news in a week and it's been glorious!
But I have been wearing my mask, and it's been hot and sweaty, so I'm ordering these right after I hit publish.
Stay well friends!
Affiliate Links
Since the purpose of this blog is to take the stress out of getting dressed, we try to make it easy on you by sharing shoppable links (accessed by clicking the PINK words or the actual photo) with awesome readers like you. We want to let you know, some of those contain affiliate links for products. There is absolutely no additional cost to you if you take action (click, purchase, subscribe) with one of these links. As a result, we will earn some coffee money from your click.  But we promise to drink it while creating more ad-free, helpful content like this.