The Vest-a Common Conundrum Piece.
When I meet with a client for the first time I always ask about their conundrum pieces. And lately, the vest seems to be the conundrum culprit for quite a few clients. A conundrum piece as I call it is one of those pieces that every time you put it on it makes you say, "how am I supposed to wear this" or "what am I supposed to do with this". Oh, and by the way, I'm not talking about a sporty, Eddie Bauer type, fly fishing vest. There's a place for those but that's not the topic today.
I'm talking about a longer wool/cashmere, sweater, or fur vest. And the challenge of how to wear them for effortless style. But the answer isn't as easy as a quick explanation. It's more of a visual thing. So, instead of giving a quick answer, I'm offering up some quick style inspiration and how-tos.  Print it out and hang it in your closet for the next time your favorite vest gives you angst. Or better yet, bookmark this page and come back to it over and over again.
Vests are Great for Transitioning to Spring
Vests or sleeveless blazers are the perfect transitional piece. Yes, right now we might be in the depths of winter but soon, those daffodils will be blooming and we'll all be scrambling for transitional outfits to get us through March, April, and May. Vests allow an extra layer but without all the bulk of a typical cardigan or blazer so they're great for those "in-between" seasons we all struggle with.
Style Inspiration and How To's for Your Favorite Vest.
The great thing about wearing a vest is that it gives your outfit the finish of a jacket but without the heat (no arms) or restrictions of a typical blazer. And visually, vests are super elongating – and what girl doesn't want that?
Why vests can be a challenge…
 When you put a woven button down under a vest and it can feel like a uniform
If you put a tight metallic, Michael Stars type t-shirt under, the outfit can feel too 90's
And, when you put a short sleeve top under a vest, the lines fight with one another
Try these vest outfit ideas instead…
Instead of the fitted long sleeve T-shirt try a sweater with some slouch and skinnies. 
Try drapey silk-type blouses under fur vests. This works with boyfriend jeans or wider leg bottoms.
Give your furry vest new life by putting it over a pea coat. 
Layer your vest over a leather jacket if you're on the edgy side. 
Wear it dressy over a column of color 
A vest looks really cool and unexpected over a dress and adds that finishing touch. 
Wear it belted at your true waist for a cinched-in look over your favorite pants.  Check out my 10 favorite under $100 belts here.
A cap sleeve t-shirt (totally different than a short sleeve) and a printed pair of pants breath spring life into a solid vest you've worn all winter. You can easily make your favorite vest a 4 season favorite.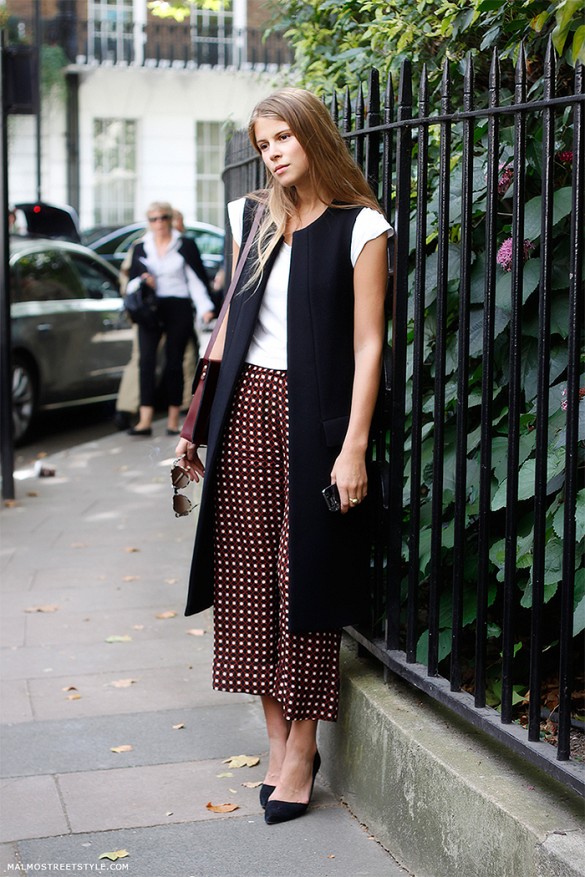 The best vests to get to try these effortless looks.

Don't let your vest be a conundrum piece anymore. With these looks, it'll be easy to make lots of different outfits all year round. Tell me, what other pieces do you have in your closet that give you trouble every time you put them on. I want to know, cause I bet I have a good answer. Happy Vesting.
Photo: Molly Nook 
Outfit details: jeans size down, they run big, similar vest, sweater, similar backpack, belt, watch
Street Style Photos 1 via //  2 via //  3 via // 4 via //  5 via //  6 via //  7 via //  8 via
Affiliate Links
Since the purpose of this blog is to take the stress out of getting dressed, we try to make it easy on you by sharing shoppable links (accessed by clicking the PINK words or the actual photo) with awesome readers like you. We want to let you know, some of those contain affiliate links for products. There is absolutely no additional cost to you if you take action (click, purchase, subscribe) with one of these links. As a result, we will earn some coffee money from your click.  But we promise to drink it while creating more ad-free, helpful content like this.
Post updated 3/1/21