Throw on jeans and a T-shirt.
The other day we were talking about how nice it is in the summer to be able to just throw on a pair of jeans and a T-shirt and leave the house. No coats, no boots, none of the extra layers. So nice, right? Then the conversation got a little deeper.  We went from talking about how nice it is to throw on jeans and a T-shirt, to where the heck to find good summer T-shirts that aren't a fortune.  Let's say T-shirts that are under $25. (Seriously, people when did T-shirts become so pricey?)  T-shirts that you don't feel bad if you sweat in, get sunblock on, wear to your kids baseball game, get seat belt or kitchen counter holes in,  or dare to say it…dribble chocolate ice cream on. (Yes this just happened, and yes the T-shirt is permanently ruined.) In other words, T-shirts that won't make you cry if you ruin them.
Do under $25 T-shirts really still exist?
So, where do these under $25 T-shirts hide now a days? The kind that are cute enough to throw on and not feel like a slob, but not so pricey that you feel guilty wearing to just run around on a Tuesday? And what makes these said T-shirts feel un-slob like? Well that's easy, but finding them hasn't been so easy. So, here's the short list of what to look for, and we'll give you the long list of where to find them. Problem solved. T-shirts under $25 that still feel put together and UN-slob like. Oh, and while we're at it, here's a few style tips to help with the UN-slob like thing…
T-Shirt Styling Tips.
Style tip #1.  If you're wearing skinny jeans, or a boyfriend/girlfriend jean give the t-shirt a little front tuck or twist and tuck. If you're wearing a wider leg jean tie the T-shirt in a knot around your hips like we did in 1989, or tuck it all the way around. (See When To Tuck blog post.)
Style tip #2. Adding some brass and/or leathery jewelry like this and this and this AND this helps elevate your under $25 T-shirt game. 
Style tip #3. If it's a short sleeved T, roll the arm up so it hits at the most attractive point of your arm – usually that's mid bicep.
What to look for in a perfect T-shirt (no matter the price tag).
1.Look for a little slouch.
If the t-shirt isn't roomy enough in the torso, go up a size. It helps give a slouchy look.  
2. Look for a little linen.
Linen blends help the t-shirt drape. If the T is too stiff it can feel a little more masculine which contributes to that slob like feel.
3. Look for the perfect sleeve length.
If it's not sleeveless the sleeve should hit at about mid bicep. Roll it up or have it permanently stitched down if it's too long.
4. Look for a little interest.
Stripes, burnout, and graphics all add interest which makes them look more elevated and less sloppy.

T-shirts to bum around in and not feel like a bum 
ALL UNDER $25. Just click on the photo for buying details.
Colorful and graphic:
Aren't we all made for sunshine? Loving this yellow color for summer.

All white:
This cutie is thickish, so it isn't see thru – but not so thick it's stiff. And, it's sold out in stores – only available on line (and selling fast).

Sleeveless:
This wear with everything tank is a summer go-to. It gets bonus points because it's bra-friendly too!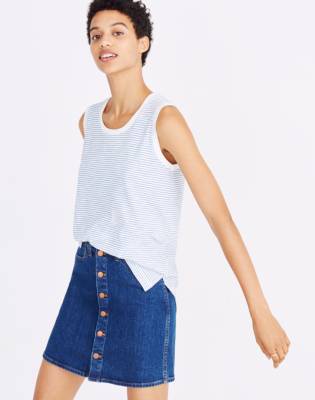 No more worries about summer stained t-shirts when they're under $25. Do what you want in them and enjoy yourself while you're doing it. Especially while eating an ice cream cone. Happy T-shirt shopping friends!
Photo : Molly Nook 
Outfit : Jacket // T shirt // Jeans // Glasses // Lipstick
Affiliate Links
Since the purpose of this blog is to take the stress out of getting dressed, we try to make it easy on you by sharing shoppable links (accessed by clicking the PINK words or the actual photo) with awesome readers like you. We want to let you know, some of those contain affiliate links for products. If you take action (i.e. click, subscribe, make a purchase) after clicking one of these links, there is absolutely no additional cost to you. However, we will earn some coffee money from your click and promise to drink it while creating more ad free, helpful content like this.