Work Bags that you'd Happily Carry Off Duty too.
We've had a few clients on the hunt recently for work bags. You know the kind of bag that can hold your laptop, makeup, wallet, phone, spare chargers, snacks, and feminine hygiene if needed. BUT also still look stylish if you need to carry said bag to after work drinks or dinner. And a big bonus if the bag is chic enough to carry when off duty and the laptop is at home charging. That's a tall order but we searched and searched and guess what? We found some real winners.
The Elements of a Chic Work Bag
A work bag needs to hold a crap ton of stuff
The handles need to be sturdy to hold all that stuff
The bag must be LIGHTWEIGHT when empty (if not, when you put in all that stuff you'll break your back for sure)
It needs to look professional (like not Vera Bradley print busy) but also not like an old man's briefcase.
Chic Work Bags We LOVE

One More Thing…
Tote work bags can look super lovely and hold a lot, but for some, the unorganized bottomless pit aspect of a tote can drive ya crazy. These tote inserts are a total lifesaver. This particular one is a fave because it even has a special drink compartment, genius, right?. This work bag insert is also good  – it's waterproof and has a zipper compartment.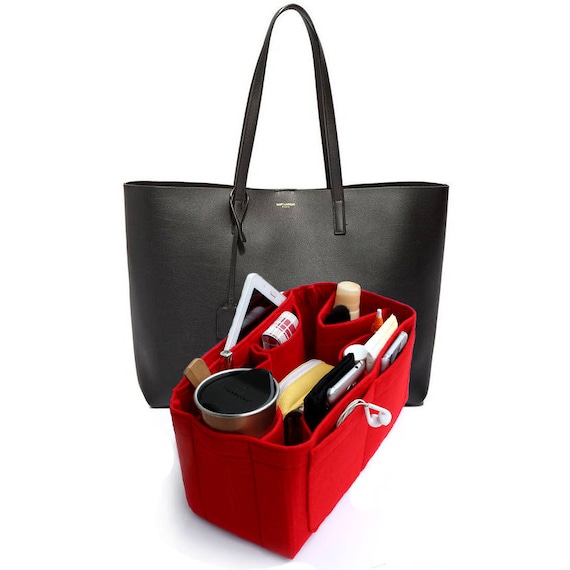 For work or play, these bags have all the elements busy women are looking for to schlep all their sh*t around. Do you have a work bag you love that we missed?? If so share it with us in the comments.
Affiliate Links
Since the purpose of this blog is to take the stress out of getting dressed, we try to make it easy on you by sharing shoppable links (accessed by clicking the PINK words or the actual photo) with awesome readers like you. We want to let you know, some of those contain affiliate links for products. There is absolutely no additional cost to you if you take action (click, purchase, subscribe) with one of these links. As a result, we will earn some coffee money from your click.  But we promise to drink it while creating more ad-free, helpful content like this.
Photo: Molly Nook